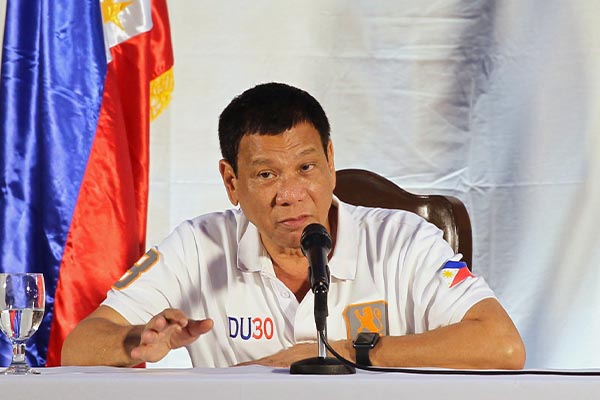 34 killed in 11 days – PNP
MANILA, Philippines - Despite facing an impeachment complaint and efforts to bring him before the International Criminal Court (ICC) for summary killings, President Duterte vows that his war on drugs will be sustained, and it will be "brutal."
In a press conference at the Davao International Airport yesterday, Duterte said he could not be stopped from pursuing his drug war despite the impeachment complaint filed against him by the Magdalo party-list and efforts to hale him before the ICC.
"Listen to me: I will deliver my promises even if it will cost me my life, my honor and the presidency. I can let these go, but I will comply with my promise," he said.
"The drive against corruption, the drive against criminality and drugs will resume and it will continue and it will be brutal if they do not understand the role of government. Suppression includes all," he added.
He shrugged off the impeachment complaint and the move to bring him to the ICC.
"I welcome both developments. They can do their worst; I can do better in my performance as a worker in government. This is a democracy," Duterte said before leaving for Myanmar and Thailand for official visits.
"But I will not be intimidated or I shall not be stopped by just, what – an International Criminal Court? Impeachment?
"If it is part of my destiny, it is my destiny to go… that's all about it, fate. Maybe, God gave me just two years, or six months, or one year and a half to be president of this country, fine. But let it not be said that I did not fulfill my challenges. That is what life is all about, honoring your commitment to your fellowmen," he added.
Duterte reiterated his stand against illegal drugs, saying he does not care about drug criminals losing their lives during legitimate operations as long as no member of the police or the military is killed.
He again warned all drug lords, operators, suspects and users to stop their operations or face the consequences.
"So drop shabu if you want to be alive. If you do not want trouble with government, stop trafficking. I will not be for a moment, be out of focus on that. Whatever I promised, I will rise and I will fall on this," he said.
"We just follow the rules under the Revised Penal Code…If you are a criminal, and you are caught in the act, do not fight because if you place the guy's life in jeopardy, my order is to shoot you.
"I do not want to see military men and dead men on my side, getting killed. I'd rather that the criminals, however thousands or millions they are, they should be the first to go… Drop the shabu and nobody will die tomorrow," he added.
As of 6 a.m. yesterday, 34 were already killed 11 days after the Philippine National Police launched the renewed drug war "Oplan Double Barrel Reloaded," which PNP chief Director General Ronald dela Rosa has promised to be less bloody and more humane.
The PNP said 17 of the fatalities were from Central Luzon, five from Central Visayas; three from Southern Tagalog; two each from the Autonomous Region in Muslim Mindanao and Central Mindanao; and one each from the National Capital Region, Ilocos, Western Mindanao, Northern Mindanao and Caraga.
'Stop meddling in Phl affairs'
The President told the European Parliament last night to stop meddling in Philippine affairs.
He said he couldn't accept that the European Parliament is imposing its ways into the country when there are differences in cultures.
"You know guys, do not impose your culture or your belief on other countries," he said before the Filipino community in Myanmar where he arrived for a two-day visit.
Duterte also slammed European Union special rapporteurs appealing to the government to prevent the return of death penalty in the country.
"Itong mga buwang na ito (these crazy people), why are you trying to impose on us? Why don't you mind your business?" Duterte said. "Why don't you have to fuck with us…God damn it!"
Duterte, who had called the EU "fools" in the past, again spewed expletives for issuing a resolution against his drug war.
The President questioned the EU for recommending that those hooked on shabu be given shabu in a center, the same way, for those addicted to marijuana and cocaine.
PDP-Laban to block impeachment
Duterte also denied having a hand in the moves of his allies in the House of Representatives to impeach Vice President Leni Robredo after she sent a video message before the United Nations, criticizing the summary killings in Duterte's drug war.
As to Duterte's impeachment, his party, Partido Demokratiko-Lakas ng Bayan (PDP-Laban), and its allies will counter the impeachment case against Duterte by securing at least 100 signatures for the impeachment of Robredo.
Benito Ranque, PDP-Laban deputy secretary general, said Magdalo's move to file an impeachment complaint when Congress is on Lenten break is meant to give lawmakers more than one month to study the complaint – a "creeping impeachment" to gather support from the House of Representatives.
"We will give the Magdalo party-list group a dose of their own medicine. We will also devote our time in rallying support from party members and allies for the impeachment of Robredo. It will be a choice between the Vice President and President," he said.
A group of volunteer lawyers is now preparing articles of impeachment against Robredo when Congress resumes session on May 2.
"By that time, PDP-Laban and its allies may have already the signature of congressmen needed for direct filing of articles of impeachment to the Senate impeachment court," Ranque warned.
Ranque also claimed that the impeachment initiated by Magdalo group could be a prelude to a bigger scenario being hatched like their past attempts to destabilize the Arroyo administration.
Speaker Pantaleon Alvarez also expressed confidence, ruling out the need for a loyalty check among the 293 House members.
"We don't need a loyalty check anymore. We don't have to do that. I even doubt it if it can reach the plenary. Although I haven't read it yet, but as a lawyer, I know that it's very hard to prove. It's all based on hearsay and without personal knowledge," he said.
Malacañang is leaving it up to the House leadership to determine the credibility of the impeachment against the President.
"Speaker Alvarez's call to impeach the Vice President is within his purview," presidential spokesman Ernesto Abella said.
"The evaluation of the possible grounds for impeachment and the decision to file the complaint are the prerogative of the House of Representatives," he added. – With Perseus Echeminada, Edith Regalado, Cecille Suerte Felipe, Delon Porcalla
http://www.philstar.com/headlines/2017/03/20/1682910/duterte-vows-brutal-drug-war