By Rosette Adel (philstar.com) | Updated December 21, 2016 - 11:45am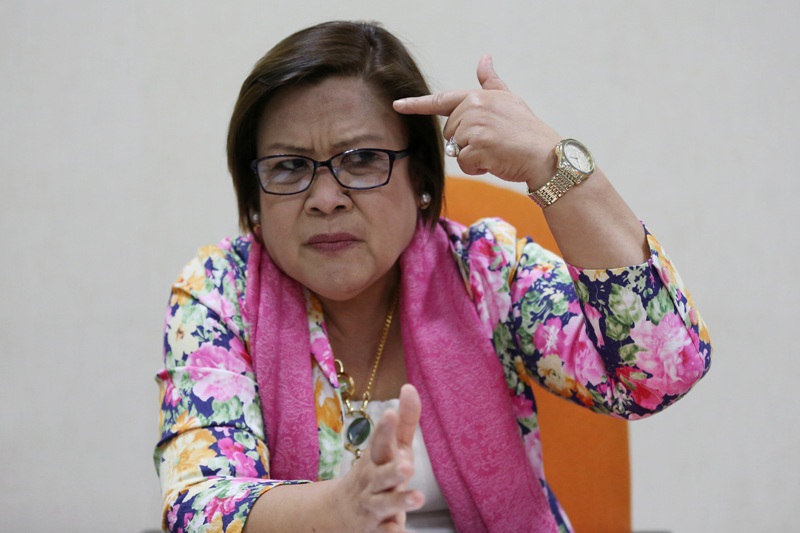 MANILA, Philippines – The Department of Justice on Wednesday indicted Sen. Leila De Lima for her disobedience to the summons issued by the House of Representatives, its committee and subcommittees.
The DOJ found probable cause in the criminal complaint of House of Representatives leaders and recommended the charging De Lima for obstruction of justice.
It said that her advice to former bodyguard and driver Ronnie Dayan through his daughter to hide and to not appear at a House probe on the illegal drug trade induced his disobedience to summons.
"Based on the foregoing, we find probable cause to charge the respondent of violation of Article 150 of the Revised Penal Code," the resolution dated December 15 read.
"Wherefore it is respectfully recommended that this resolution be approved and the corresponding information be filed before the court," it stated.
De Lima's indictment came eight days after House leaders, including House Speaker Pantaleon "Bebot" Alvarez, House Committee on Justice chair Rep. Reynaldo Umali and House majority Rodolfo "Rudy" Fariñas filed a criminal complaint against the senator. It was however filed on December 15.
The information, or formal complaint, for Obstruction of Justice against De Lima was filed before the Quezon City Metropolitan Trial Court by Officer-in-Charge Prosecutor General Jorge Catalan.
There is no bail required in De Lima's case since it only involves a light offense. Because of the nature of the offense, authorities are not expected to serve a warrant against her.
If found guilty, De Lima can be imprisoned for from a month and a day to six monthd and fined from P200 to P1,000. — With reports from The STAR/Edu Punay