(The Philippine Star)
|
Updated May 20, 2016 - 12:00am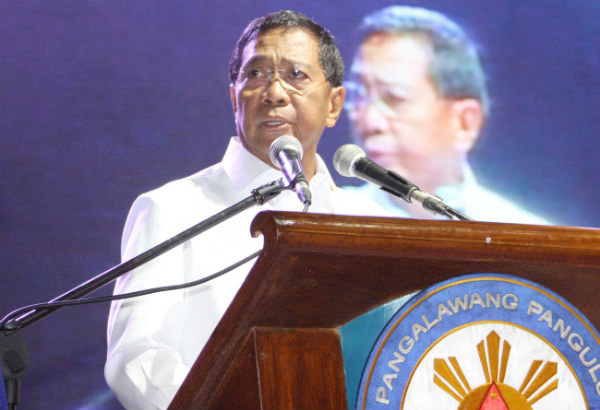 MANILA, Philippines - Vice President Jejomar Binay, who lost in his bid to become the country's next president, will be criminally indicted before the Sandiganbayan as soon as his immunity from suit expires on June 30.
Ombudsman Conchita Carpio-Morales yesterday said the anti-graft agency has found probable cause to charge him with graft, falsification of public documents and malversation of public funds stemming from his alleged role in the overpriced construction of the Makati City Hall Building II.
"The resolution that we issued is very clear. When he's stripped of immunity, then we will consider filing the case," she told reporters at a press briefing.
Morales, however, refused to give a specific date as to when the cases will be lodged, noting that "July 1 comes after June 30 in the same manner that July 10 comes after June 30."
The Office of the Ombudsman filed similar criminal charges against Binay's son, dismissed Makati City mayor Jejomar Erwin Binay, and 22 other individuals last February.
But because the elder Binay is an impeachable official, the anti-graft agency deferred the filing of charges against him.
Ombudsman investigators said both father and son were involved in irregularities, including bidding and procurement law violations, during the construction of the parking building worth P2.2 billion.
On incoming president Rodrigo Duterte's reported statement that he will not prosecute Binay or even President Aquino for alleged offenses committed during the latter's term, Morales said the president is not a prosecutor anyway.
"He's not the prosecutor so tama yan (that's right)," she said, adding that such statement does not mean lack of support from the incoming administration insofar as fighting graft and corruption is concerned.
"It does not mean that way. He is saying that he is not going to initiate charges against them. To begin with, hindi naman siya (he is not the) prosecutor. It is the Office of the Ombudsman which initiates charges or, if it does not motu propio file charges, it receives complaints and it gives due course to complaints if warranted," she said.
Morales said the investigations on the other plunder and graft cases filed against Binay will continue but the expiration of his term of office will not necessarily speed up the probes.
She said the cases ready to be filed against the Vice President after June 30 for his involvement in the parking building anomaly may be bailable.
Binay camp unfazed
Meanwhile, Binay's spokesman for political affairs yesterday expressed confidence that he would be cleared in all cases.
"In a fair and impartial venue, we are confident that the so-called cases against the VP will be dismissed for being frivolous and baseless. We shall exert all legal remedies to prove the ombudsman wrong," said Rico Quicho.
Quicho criticized Morales for ignoring evidence and due process to harass the Vice President while sparing the allies of the present administration. – With Helen Flores