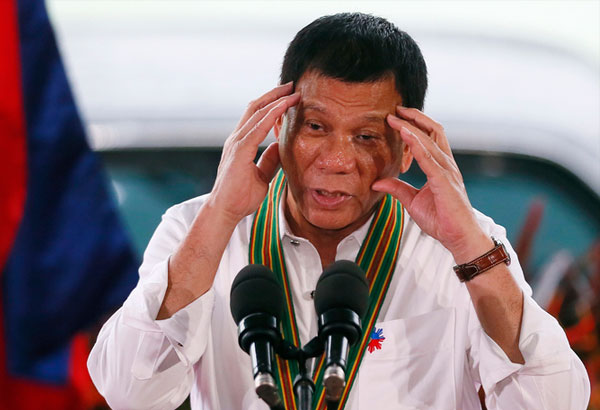 MANILA, Philippines — President Rodrigo Duterte has admitted toying with the media regarding his health following calls for him to release his medical records.
During the birthday celebration of Sen. Manny Pacquiao in General Santos last Saturday, Duterte became defensive about his health while he was talking about how he hate long hauls.
"Ayaw ko man magpunta-punta ng mga lugar. Ang akin diyan lang. I'm contented with the bahay ko, 'yung after that, the After Dark diyan, di naman ako maka-inom (I don't like going places. I'm contented staying inside my house. After that, I go to After Dark bar but I can't drink)," Duterte said, referring to his favorite hangout place in Davao City.
"Tapos mag-intriga, sabi ko may sakit ako na ano, headline kaagad (After that, there will be intrigues. I said I am sick and it will become a headline). 'Duterte will die', g***. Hoy, istorya lang 'yan, maniwala ka pala, uy (fools, I just made up that story and you believed it)," he said in jest.
The 71-year-old Duterte, who has had a love-hate relationship with journalists, said the media writes about everything he says.
"Kaya ko nilalaro 'yang mga buwang, tingnan mo, kung anong sabihin ko, kunin kaagad nila, totoo 'yan (I toy with these crazies because they pick up whatever I say. That's true)," he said.
Last week, Duterte admitted that he is suffering from migraine every day and that he has spinal issues. He said his doctor had advised him to undergo an operation but his partner, Honeylet Avanceña warned him that many surgeries on the spine have gone awry.
Presidential spokesman Ernesto Abella has said that there is nothing serious about Duterte's health issues.
Duterte has also belied rumors that he has cancer but has admitted having Buerger's disease, an ailment caused by smoking.
Sen. Panfilo Lacson has asked Duterte to release his medical records, calling the president's state of health "a national concern."
http://www.philstar.com/headlines/2016/12/18/1654648/rody-says-he-toying-media-about-his-health