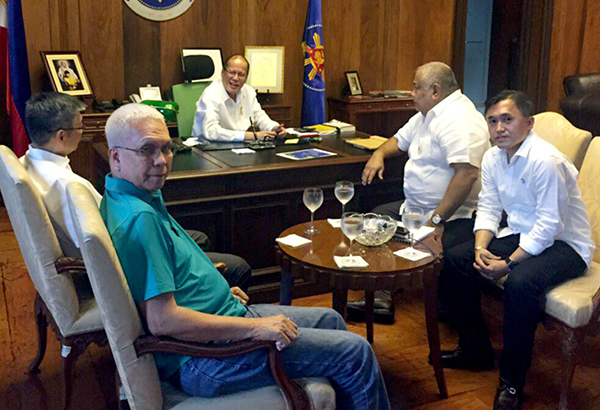 DAVAO CITY, Philippines – President-elect Rodrigo Duterte has reminded his incoming Cabinet members to ensure that his administration would not be tainted with corruption or they would be answerable to him for their misdeeds.
Duterte gave the reminder during a three-hour meeting with his designated officials at the Philippine International Convention Center (PICC) in Pasay City Wednesday night, incoming agriculture secretary Emmanuel Piñol said.
"We were told by the president that there should be no corruption, make sure there is no corruption. (He said) nobody from my family will interfere with your work, I'm giving you a free hand on the people you choose," Piñol told reporters here yesterday.
"But you are answerable to me for your misdeeds and for the people you have chosen," he quoted Duterte as saying.
"We are accountable for every misstep we make. It was a very clear statement," Piñol added.
It remains unclear what Duterte would do in the event his officials are found to be involved in corruption. Piñol, however, believes that Duterte would not hesitate to remove those who are guilty of wrongdoing.
"The president would relieve the entire department and city hall if one commits a wrongdoing. I think that's still the same mindset," the incoming agriculture chief said. "Nobody is indispensable. There are no (sacred) cows."
Piñol said Duterte was serious but in a light mood when he presided over the meeting.
"We are upbeat. We are happy. The president was very happy," he said.
Last month, Duterte vowed to be harsh when it comes to corruption and has outlined bold measures to address the problem.
He is planning to reshuffle personnel at the Bureau of Internal Revenue, Bureau of Customs and Land Transportation Office, agencies that he described as the "most corrupt."
The tough-talking Duterte will also prohibit military and police officers from bringing along with them their staff in their next assignments to prevent payoffs.
He has also warned judges against issuing temporary restraining orders for a fee, a practice that he said had delayed important government projects.
While he was criticized for naming his classmates to key posts and for supposedly "recycling" officials from previous administrations, Duterte said his administration would be filled with "men of integrity and honesty."
Other issues
Piñol said the meeting also touched on the K-12 program, traffic problem, budget matters and food security.
He said incoming education secretary Leonor Briones informed the president that it is too late to shift gears on K-12 because of the law that institutionalized it.
"She (Briones) is open to improvement and modification but is steadfast in her position that there is no way we can amend that because of the law," Piñol said.
Piñol reported to Duterte his consultations with farmers affected by the El Niño phenomenon.
He said he is eyeing a cash-for-work program for farmers and fishermen to earn additional income. The work may include preparing roads, cleaning bodies of water and planting mangroves, among other tasks.
Piñol said he is also working closely with seed growers to increase rice production to prepare for La Niña, which is expected to hit the country in November.
"We are talking to seed growers. We want to know how many seeds are available. By October, we have to harvest them. The planting should be done in July so we can have enough rice," he said.
He added that incoming transportation secretary Arthur Tugade reported on the traffic problem in Metro Manila and proposed cracking down on unregistered or "colorum" vehicles.
As to the proposal to grant Duterte emergency powers to address traffic woes, Piñol said the matter "was referred to the legal minds."
Incoming budget secretary Benjamin Diokno, meanwhile, informed Duterte that about P1.7 trillion remains unspent in this year's budget.
Incoming finance secretary Carlos Dominguez discussed his proposed meeting with the business sector from June 20 to 21 here. Duterte is expected to attend the second day of the meeting.
'Meet-and-greet'
The first Cabinet meeting presided over by Duterte in Metro Manila on Wednesday was an informal affair that involved a "meet-and-greet" among top government executives who would steer the country in the next six years, said incoming presidential spokesperson Ernesto Abella.
"This evening was a simple meet and greet," Abella said. "It was an informal meeting with the Cabinet. There was an introduction of the new Cabinet members and the new appointees."
He and incoming Presidential Communications and Operations Office (PCOO) secretary Martin Andanar faced the media following the almost five-hour late night meeting.
Duterte, who flew from Davao City on Wednesday to visit the wake of Bataan vice governor-elect Enrique Garcia Jr., arrived past 6 p.m. at PICC using a helicopter.
The meeting, which also included dinner, supposedly started around 7 p.m. and ended more than four hours later.
Around 28 people were in the room, including almost all of the designated Cabinet members, incoming presidential chief legal counsel Salvador Panelo told The STAR yesterday.
Panelo said not in attendance were incoming foreign affairs secretary Perfecto Yasay Jr. who is in the United States, and incoming presidential peace adviser Jesus Dureza and incoming labor secretary Silvestre Bello III who are in Norway for the preliminary talks with the Communist Party of the Philippines.
Jose David Lapuz, who was rumored to have been appointed to the Commission on Higher Education, was also not present.
Among those who attended were newly designated health secretary Paulyn Ubial, trade secretary Ramon Lopez and tourism secretary Wanda Tulfo-Teo.
"(The Cabinet members were) very transparent with one another, very encouraging. The president is very informal but direct to the point," Panelo said.
Policy talks
While no discussions on specific policies were discussed, Abella said the meeting involved a free-flowing exchange of ideas among Cabinet secretaries to make sure that the incoming government is well coordinated.
"The whole meeting was basically just about… hearing from the various secretaries so that the incoming administration will be able to be more systematic and more coordinated and the departments will not act as silos," he added. – With Janvic Mateo
http://www.philstar.com/headlines/2016/06/17/1593847/duterte-cabinet-corruption-not-allowed