Shot between the eyes and declared brain dead, Bong Manlulu was not expected to come out alive from the Mendiola Massacre on January 22, 1987.
Then only 18 years old, Bong was among some 20,000 marchers who headed to Malacañang Palace, demanding distribution of lands to farmers and zero retention of estates by landowners. They were stopped at Mendiola Bridge.
The one sitting in Malacañang at that time was the late President Corazon "Cory" Aquino, mother of the incumbent President Benigno Simeon "Noynoy" Aquino III.
Bong, now 43, said he was a student of the University of the Philippines in Los Baños (UPLB) when he joined Southern Luzon activists in going to Mendiola, where rallyists from different parts of the country were calling for "genuine land reform."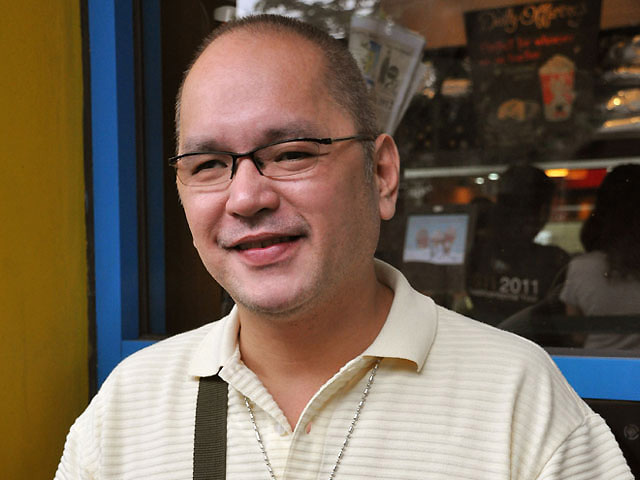 Bong Manlulu was an 18-year-old UPLB student when he was shot between the eyes during the Mendiola Massacre on January 22, 1987. Riz Pulumbarit
Upon reaching Mendiola Bridge, however, the shocking happened. Government forces suddenly fired without warning at the marchers. Panic ensued and the marchers fled, scrambling to escape the bridge, a bloody sea of tattered streamers.
Bong, then an officer of the activist group Bagong Alyansang Makabayan (Bayan) recalled, "We hadn't even stepped on the bridge when there was a first round of gunfire that was directed at the rallyists."
"Everybody ducked and the command was to stay down, and the idea was for our national leaders in Bayan, the likes of Jimmy Tadeo, to negotiate and allow us to move forward to Malacañang Palace," he said.
Bong said there was confusion everywhere. "It was true, like in the cartoons, that you would see bullets flying above your head and hitting people randomly," he said.
Suddenly, there was another round of gunfire and although he was quick to duck, he saw his classmate standing.
"She was crying and was so frantic. Turning my head to the left I saw the policeman or the military aiming the sidearm toward her so I was able to shout, "Dapa! Dapa! Atras! Atras!" Bong said.
Suddenly, the man who was about to shoot Bong's classmate moved his gun and aimed at Bong instead.
"I saw the policeman aim the gun at me instead and he shot me. I was stunned. I didn't know what to do. But I felt that I was hit. Because suddenly it was so sticky and the blood running down my face was so warm," he said.
He was shot near his left eye, but at the time he did not know where the blood was coming from.
"You know the feeling of getting burned by a cigarette? Initially it's so painful, but suddenly it becomes numb. That's how I felt," Bong recalled.
After being shot, Bong fell on the pavement and was stepped on by about a hundred people who were trying to escape from the carnage.
"I wanted to move, but I could not move. A hundred people walked over me. Mas masakit iyon. The stampede is more painful than the gunshot. When I was brought to the hospital, it seemed that I had elephantiasis. Magang-maga yung buong katawan ko because of the number of people that stepped on me," Bong said.
Bong was grateful that two fishball vendors and two farmers helped bring him to the hospital. Being a tall guy, over six feet in height, Bong was too heavy for them to carry. They decided to put him on top of a fishball cart to bring him to the hospital.
"While they were pushing me on the fishball cart, I could see rallyists being hit by the police, teargas, being given a water cannon treatment. It was chaos all over. They were running inside restaurants, hiding in the eskinitas of Recto, so just to escape the wrath of these policemen and military people," Bong said.
Unfortunately, the two farmers who helped him were also shot and Bong has no idea if they survived.
"I was one of the lucky ones who survived. What I heard is that of the five who were brought to FEU hospital who were critically injured, I was the lucky person who gets to be alive and the four of them died," Bong said.
Bong was in the hospital for four months. At one point, he was declared clinically dead, but his family refused to cut his life support system.
"I was able to see myself on top while they were operating on me, but I never saw a white light of sorts, but there was this feeling that a certain part of my body will fall in a bottomless pit. Naghihiwahiwalay yung body ko, but I am still alive right now. Thank God," he said.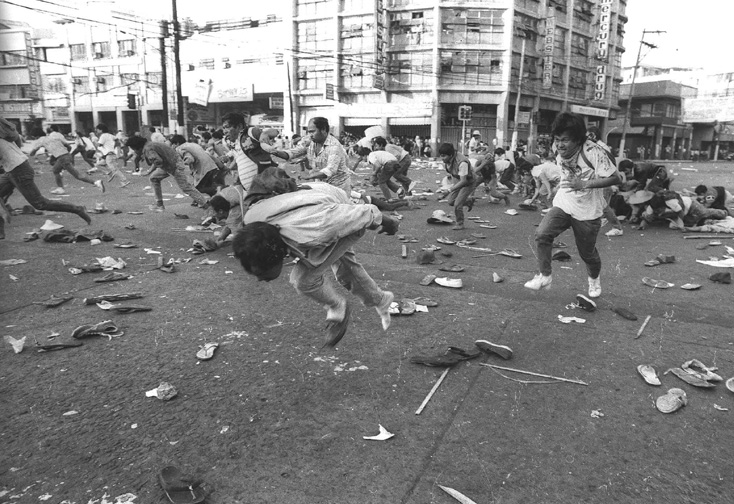 As more shots are fired, protesters at Mendiola flee for their lives. Ramon Acasio
13 farmers killed
The 13 farmers who were killed in the Mendiola Massacre were: Adelfa Aribe, Danilo Arjona, Ronilo Domanico, Dante Evangelio, Bernabe Laquindanum, Roberto Yumul, Leopoldo Alonzo, Dionisio Bautista, Roberto Caylao, Sonny Boy Perez, Vicente Campomanes, Angelito Gutierrez, and Rodrigo Grampan.
Bong, not a stranger to rallies, did not expect that the rally at Mendiola 25 years ago would turn
bloody
.
Bong said at that time, "a year after the toppling of the Marcos dictatorship, the political situation then was what you call a populist democracy where people have freedom of discussing things, political ideologues and standpoints on certain issues."
"The university (UPLB) was really alive with so many not only of students' issues...basically anything that confronts or affects the entire nation," he added.
He said the call of the time then was for the passage of the Comprehensive Agrarian Reform Law (CARL).
"You must be aware of our situation at UPLB. Being a state university in a province like Laguna, we are close to the realities of the country. A jeepney ride away and you will be with farmers' communities, both lowland and upland communities, another ride away and you will be in the industrial belt of Laguna," he said.
"So, people surrounding the university are aware that they have a sanctuary or an ally in the form of the students of the university. The university is really a marketplace of ideas where all kinds of issues confronting not only the students but the entire country are really being discussed and are really being something that is championed among students," he added.
Bong related that during the four months he was recovering in the hospital, he managed to organize some nurses, who would volunteer their first aid services whenever rallies would be held in Mendiola. They were eventually assimilated in the Medical Action Group, a progressive alliance of medical practitioners.
After being released from the hospital, Bong returned to UPLB, where there was an indignation rally cum welcome party.
"Left and right, people, students, community, were there to welcome me. I felt like Sharon Cuneta. It was a good feeling because aside from a personal affirmation, I think by the presence of the people it would be an indicator that they are informed and that they are aware of what is happening in our society," Bong said.
Bong graduated in 1991 with a degree in Sociology. He is now a Human Resource consultant for multinational firms, where he continues to champion causes that are close to his heart.
"My role as an HR person is to make sure that there is a balance between workers' welfare and capitalist or owners' profitability. A very hot issue there is equal opportunity in the workplace, where men and women are given the same opportunities and equal benefits and equal rights," Bong said.
This coming March, he will head to Cambodia to participate in a regional study and capacity building of leading HR and gender workers.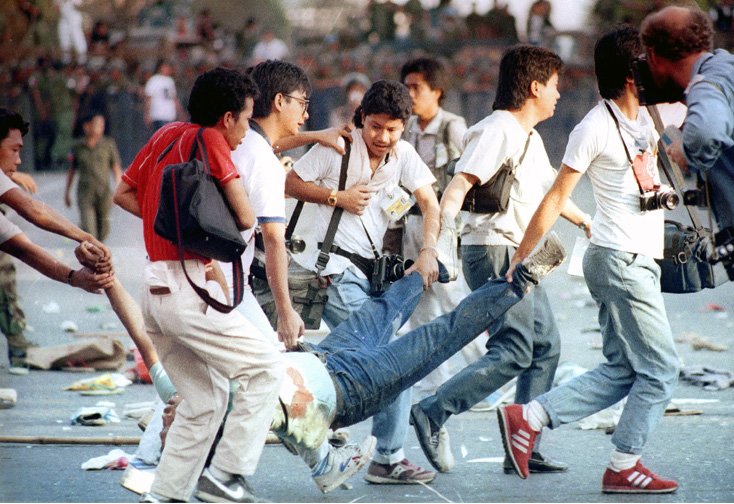 Photographers Alex Nueva España, Derek Soriano, Ramon Acasio, and Claro Cortes III carry a wounded protester to a nearby press vehicle that will take victim to a hospital.Luis Liwanag
Not much has changed
On the issue of land reform, Bong noted that little has changed.
"The problems we had 25 years ago are still the same problems we have at this point in time. We still have a lot of farmers who haven't received what is due them. There's still Hacienda Luisita to be distributed to the farmers and a lot of other lands that are still in the hands of the big landlords that we have," he said.
"They're still under appeal for reconsideration. They have the money, they can fight legally all these laws as they have been doing for the last 25 years. Especially now that PNoy is president the way they get to pressure the removal of the Supreme Court Justice then I don't think there would be substantial actions that would be made on that particular SC decision," he added.
He lamented that "there have not been any substantial change in the way we get to do our elections and our rights to suffrage. Actors, boxers, popular people are still being elected as officials and as long as we don't learn how to vote properly I don't think there would be substantial changes also in the political landscape."
On January 22, Bong will return to Mendiola to remember the 25th year since the massacre happened. He said he is no longer the same person but given the chance he would do it over and over again.
"I'm a better person now. The things I've learned when I was actively part of the movement, it became easy for me to talk to people. I have a sharper mind to analyze issues and concerns. I always think of how I can contribute to the betterment of society," Bong said.
"I'd just like to say that whatever we were calling for 25 years ago are still the very basic issues and concerns we have today. I would always tell myself when I was young, kung hindi tayo kikilos, sino? Kung hindi ngayon, kailan? Twenty-five years have passed," he said.
Bong said he has not yet given up on the Philippines.
"My family has already given up. I'm the only one left in the Philippines. My folks, my brothers and sisters are all abroad. I'm still here. I will leave the country if Manny Pacquiao becomes president. That's the last hair that will break the camel's back. There will be times that you get to give up but you just look around and you will see that hope for the motherland would always be there," Bong said.
"There's a certain uniqueness that we have in the country. One of the best things the Filipino people have is our ability to come up with something nice out of adversities and negative situations," he added.
Bong thinks the new Department of Tourism slogan "It's More Fun in the Philippines" is appropriate for the country.
"More fun, because we choose to be fun. We choose not to be drowned by our misery and our situation, and really go around the world and you'll see Filipinos in the most desolate and destitute places, striving to make a living for their families back home and that's fun, that's the meaning of being Filipino. We are not limited by our weaknesses and our situation but we rise beyond that," he said. - HS, GMA News
- See more at: http://www.gmanetwork.com/news/story/245040/news/specialreports/mendiola-massacre-survivor-recounts-horror-25-years-later#sthash.hIk1jzax.dpuf