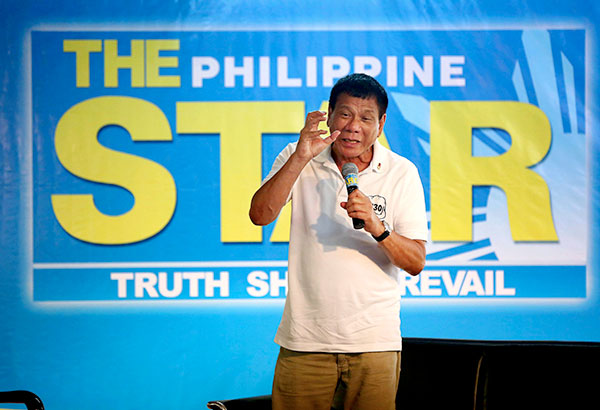 Massive revamp vowed at NBI, PNP, BuCor, PDEA
DAVAO CITY, Philippines – There will be no room in the next administration for appointees of President Aquino, incoming president Rodrigo Duterte made clear yesterday.
"They have to go," he said, even as his transition team continues its search for people to fill the remaining positions in his Cabinet and other key offices.
"There are those we want to get, but the low pay in government discourages them from being part of my administration," Duterte said.
The president-in-waiting said he hopes to gather his Cabinet officials here next week as he ruled out going to Manila ahead of his inauguration as the country's 16th president on June 30.
The initial batch of Duterte's unofficial Cabinet appointees met in Manila for the first time last Wednesday.
At the meeting, among others, were Salvador Medialdea who will be the executive secretary; Hermogenes Esperon Jr., national security adviser; Perfecto Yasay Jr., foreign affairs; Vitaliano Aguirre II, justice; Arthur Tugade, transportation; Mark Villar for public works and Emmanuel Piñol for agriculture.
Duterte also wants a massive revamp in the Philippine National Police, National Bureau of Investigation, Bureau of Corrections and Philippine Drug Enforcement Agency when he assumes office on June 30.
The plan stemmed largely from the death of five people, including an American citizen, in a concert at the Mall of Asia grounds on Sunday.
Authorities said these were due to drug overdose resulting in heart attack, kidney failure and dehydration.
Duterte did not hide his dismay over the incident.
"It was a failure of intelligence on the part of the police and other agencies concerned. How did it pass security?" said Duterte, who stressed that he was angry over how illegal drugs were distributed inside the concert venue and passed from one user to another.
The incoming president is also disappointed that nobody is talking about the incident that would have conveyed to the public the anger of parents.
"Where is the NBI and anti-drug, the police, local government and the national capital region? Where is PDEA? How come there were too many deaths? Had it been just one death, then it could be attributed to bad luck. But there were five, why did it happen?" Duterte asked.
He said the incident shows how prevalent the illegal drug trade is in the country, adding that police officers themselves are the ones controlling it.
Duterte plans to reassign police officers in the NCR and Luzon areas to several Mindanao provinces, including Surigao, Compostela Valley, Maguindanao, Zamboanga and Sulu.
He also wants a massive reorganization in the BuCor after hearing of reports on the manufacture of shabu inside the National Bilibid Prison in Muntinlupa and Iwahig Penal Colony in Palawan.
If these law enforcers still would not reform after the reshuffling, then the Armed Forces of the Philippines will be asked to temporarily perform law enforcement duties in the fight against illegal drugs, he added.
Starting July 1, Duterte said he would also impose a mandatory drug test on all law enforcement agents to ensure that they are not into illegal drugs.
Meanwhile, outgoing Sen. Sergio Osmeña III yesterday said Duterte has all the power to reorganize the executive department, including the bureaus of Customs (BOC) and Internal Revenue (BIR).
"The president has the power to reorganize the executive branch but he would need laws to establish new departments and appropriations," Osmeña said.
But reelected Sen. Ralph Recto said Duterte may not have meant it literally when he talked of abolishing some government offices.
Duterte also tagged the Land Transportation Office (LTO) as "most corrupt," adding that it might be better to simply disband all three agencies.
"I'm very sorry but the most corrupt agencies – BIR, Customs, LTO – those three… I might as well abolish them," Duterte said in a press conference in Davao City recently. – With Christina Mendez
http://www.philstar.com/headlines/2016/05/27/1587432/all-noy-officials-must-go