By Helen Flores (The Philippine Star) | Updated September 9, 2017 - 12:00am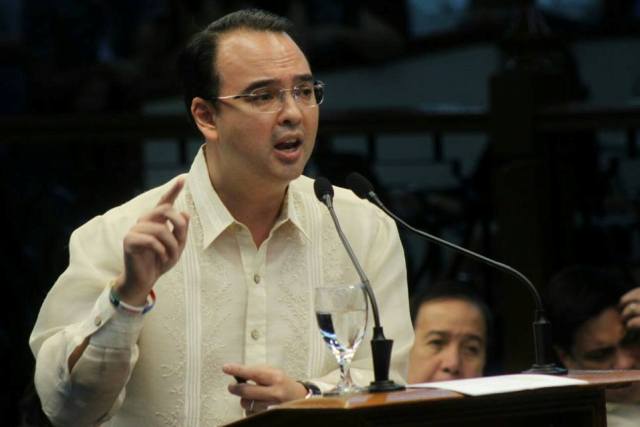 MANILA, Philippines — Having a tattoo does not make presidential son Davao City Vice Mayor Paolo Duterte a member of the Chinese triad, Foreign Affairs Secretary Alan Peter Cayetano said yesterday.
"I've been a lawyer since 1998, so for 19 years of being a lawyer I never heard that having a tattoo is conclusive evidence that one is a member of a triad," Cayetano told reporters.
During the Senate Blue Ribbon committee hearing Thursday on the smuggling of P6.4 billion worth of drugs from China last May, Sen. Antonio Trillanes IV alleged that Duterte has a tattoo that will prove he is part of the syndicate operating in Macau, Hong Kong and China.
"Triad members have a tattoo with a sacred digit at the back which can be read by the United States Drug Enforcement Agency (US DEA)," Trillanes said.
"Let's say if you have a rose tattoo and I like to have it too and copied it, does that mean I'm also a member of that organization? Maybe if the tattoo is the tattoo of the triad together with other evidence… it might be different,"
Cayetano said.
Cayetano said he is willing to check with the US DEA if so requested.
He also questioned the "intelligence" source of Trillanes, saying the senator is unlikely to receive such report as he is not part of the government security cluster.
"He is not the chairman of the committee of defense, he is not the chairman of the intel community so what if it is a plot by a foreign government against our government, against President Duterte or domestic affairs," the official said.
He said if the US DEA had records that the vice mayor was part of the drug syndicate or a triad, it would have been in the possession of former interior secretary Mar Roxas.
"It would have been released during the campaign," Cayetano said. Roxas ran for president under the Liberal Party.
Senators dismissed yesterday Trillanes' allegations that Vice Mayor Duterte was a member of the Triad.
Senate President Aquilino Pimentel III said it was unfortunate that Trillanes made such an allegation as it was not connected to the subject of inquiry.
"Off tangent from the topic of the investigation. We wasted time," Pimentel told reporters.
Senate Majority Leader Vicente Sotto III preferred not to "react to unsubstantiated allegations."
"There are many such reports in the internet and you give credence to them when you react," Sotto said.
Sen. Richard Gordon, chairman of the Senate Blue Ribbon committee, laughed at the allegations and sought a credible confirmation of the "intelligence report."
"This is ludicrous. Does he (Trillanes) have a witness from the triad? Because that will never happen. Will the one from the triad who supposedly inked the tattoo confirm it?" Gordon said in a telephone interview.
Is he talking to the CIA (US Central Intelligence Agency) now? Will he divulge his source? We cannot act or believe just on his say so," he said.
Trillanes told Duterte that showing his tattoos was important so that they can be checked with the files of the US DEA.
He said he was willing to divulge details and the source of information to fellow senators in an executive session.
Yesterday, Trillanes said it was unfortunate that senators were dismissive of his claims but stressed he does not need to convince his colleagues.
"I only need to convince the people," Trillanes said. "Aren't they interested to know definitively that the son of the President, who is the architect of the bloody war on drugs, is not a member of a drug smuggling syndicate?"
Detained Sen. Leila de Lima accused Gordon of handling Vice Mayor Duterte and his brother-in-law Manases Carpio with kid gloves during his committee's inquiry into the smuggling of P6.4 billion worth of drugs into the country last May.
In a statement, De Lima said she was not surprised that Gordon acted that way being a close ally of the vice mayor's father, President Duterte.
"Their (Duterte and Carpio) arrogant smirks of false bravado and their not-at-all concealed contempt for the proceedings and its goal to ferret out the truth rank high," De Lima said.
Look at China
Sen. JV Ejercito, for his part, aired his suspicion yesterday that China, which claims to be a friend of the Philippines, is not doing anything to prevent the entry of illegal drugs from Chinese ports to the country.
"I believe we can never win the war against illegal drugs as long as our fight is confined to the streets, killing small narcotics retailers, pushers and drug addicts. This strategy will only pile up body bags," Ejercito said in a statement.
He said that a lot of evidence has pointed to China as the major source of illegal drugs, both raw and finished product, in the country.
One particular case that has caught a lot of attention involved the entry of P6.4 billion worth of shabu from China, which was brought out of Philippine ports right under the noses of the Bureau of Customs.
It was reported that another ton of what could be illegal drugs and part of that shipment was also brought out of port and could no longer be accounted for.
"I am beginning to suspect that China is turning a blind eye on this problem on purpose. It's like the Opium War in the 18th century, where Chinese battled the illegal opium shipments to China by foreign traders, mostly British," he added.
Gordon has also been vocal in denouncing the entry of drugs to the Philippines from China, saying that it will be very hard to deal with China if they keep on allowing illegal drugs to be shipped in.
He has asked for assistance from the Department of Justice in utilizing the Mutual Legal Assistance Treaty with China to get to the bottom of the P6.4-billion shabu shipment. – With Marvin Sy, Paolo Romero
http://www.philstar.com/headlines/2017/09/09/1737279/tattoo-no-proof-triad-links?nomobile=1